Two years ago a Senior Advisor Consultant at a Top 5 Asset Manager was tasked with expanding expanding his client territory.
Instead of managing a single state, Consultants were assigned reconfigured regions consisting of four, five, and sometimes up to seven states— creating a larger opportunity, but requiring an innovative approach.
When selling mutual funds to investment companies, Consultants like need to maintain valuable, long-term relationships with financial advisors.
For sales professionals with repeat customers, research shows that a dozen meaningful interactions per year increases client retention. Meaningful touchpoints are personalized, valuable interactions with clients that build trust and strengthen the working relationship — not a monthly newsletter emailed out en masse.
To ensure that Consultants were establishing a positive experience for financial advisor clientele, a group of consultants asked Mileage Design for help creating authentic client touchpoints. Aside from traditional calls, lunches, and emails, the group wanted to take their consultative service to the next level, deepening engagement and fostering continued growth.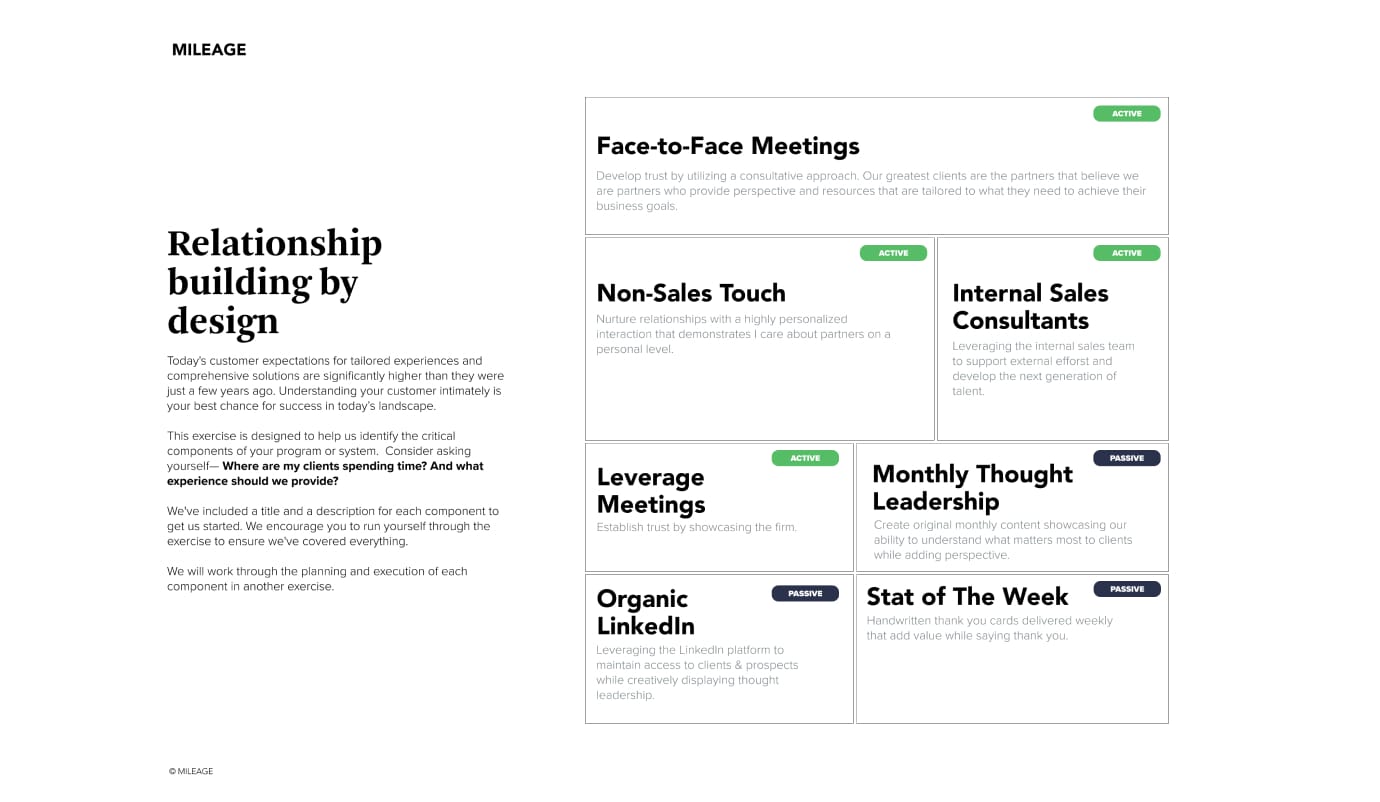 Mileage Design took an innovative approach to the challenge and began by looking at the industry as a whole, rather than diving right into developing deliverables. The Mileage team knew that the first step to providing client touchpoints that were truly meaningful was understanding Invesco customer's current situations and what leads them to become a loyal client. They researched industry obstacles, analyzed competitor data and brainstormed creative ways for Consultants could provide real value to their clients while also enabling them to scale their business.
Using their trademark user experience process, Mileage designed an Omnipresence Engagement Program that includes a combination of digital content creation, thought leadership and marketing collateral.
Mileage Design developed a LinkedIn strategy that leveraged the platform's access to advisers to increase reach in the Consultants' newly expanded territory. Mileage produces a content calendar, writes compelling copy, designs accompanying images and graphics, and manages overall engagement.
To demonstrate the personal attention these Consultants give their clients, Mileage conceived of the Stat of the Week program. They designed a simple yet sophisticated branded postcard that includes an industry fact and a hand-written thank you note.
Early client success with the Omnipresence Engagement Program caught the eye of other Consultants who wanted to emulate it. Mileage now works with six Consultants, creating a personal-branded program for each.
Mileage Design has proved to be a collaborative, adaptable partner. When the COVID-19 pandemic swept the globe, business travel came to an abrupt halt, directly impacting Consultants' ability to connect with financial advisors. Stay-At-Home orders and social distancing removed one of their most effective client touchpoints: in-person meetings. Today Mileage continues to collaborate with Consultants to discover new ways to engage their financial advisor clients, including setting up virtual meetings and educational webinars.
The human-centered, design-thinking methodologies that are the core of Mileage Design's user experience process are critical components in their ability to help Invesco Consultants continuously deliver superior client experience, outperforming their competitors and exceeding expectations.