The design challenge for this B2B technology company was centered around understanding the path to purchase and how they could speak with customers at different points in that process.
Knowing that each customer is on a unique journey, we set out to understand their needs and desires. Working closely with the management team at Warwick — they allowed us an opportunity to create customized solutions for their needs.
From humble beginnings as a World War II-era furniture company and government supplier, Warwick has grown to become a widely-respected business technology solutions provider servicing mid-to-large-sized companies in Ohio and surrounding states.
Combining a wealth of experience with cutting-edge technology expertise, Warwick is uniquely poised to help their customers discover the perfect mix of communications and IT systems to support their critical business objectives.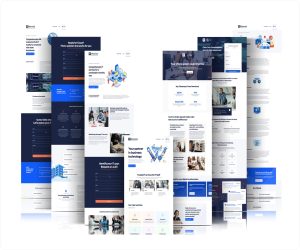 The management team at Warwick wanted to improve how they reached new audiences of prospective clients and establish a scalable set of web properties.
Mileage Design leveraged a wide range of marketing strategies like search engine optimization, pay-per click, social media advertising, email marketing, and display ads alongside more traditional methods such as print design.
Over $500,000 of trackable revenue generated
139% Increase in YoY organic traffic
62 keywords ranking on the first page of Google search
10 keywords in the #1 position and 35 keywords being in the top 5